Okay - so
maybe
this is fashion - my FAVORITE performances/artists of the night were Lady Gaga and Pink. You may ask, "What do the Grammy's have to do with fashion?" or maybe you're one of the people who watch for the sole purpose of seeing what they wore, either way...
I may be on a bandwagon with this, but I
love
Lady Gaga. She is, as my friend said, a catalyst. She gets people talking. I know that gal is as crazy as crazy gets but something about her keeps me entranced. I wait to see what she's going to do next. The Grammy's were no exception. Here is what I appreciate most about her: She is 100% original. She has a team of designers who help her create her imagination's dreams. There are no limits to what she'll do. She is least of all concerned with what people think of her. It's a lesson I am trying to learn. You go, Gaga! Plus, as delusional as she sounds at times, I can appreciate when she says she wants to "create a place of acceptance for all the weirdos out there"... sometimes I feel like a weirdo but I don't care as much as I used to about that. Lady Gaga also says, "Be good to your parents." It's a nice thing. Fashion? No. Being true to your values and yourself? Definitely!
On to the next performance... Pink!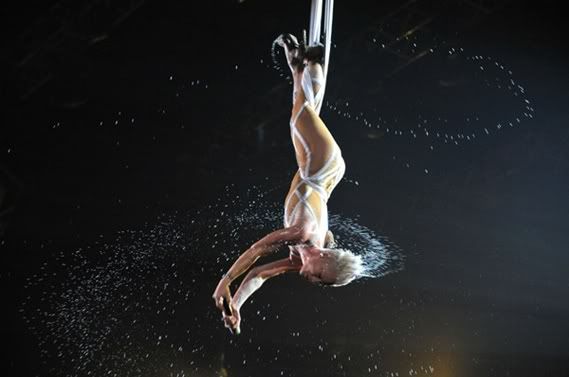 So, apparently, she performed somewhere else in a nude bodysuit. I musta missed that. Either way, what made her performance intriguing was not just that she performed in a body suit with bedazzled 'personal areas'. To appreciate what was going on... I had to look past the awkwardness. Pink! did cirque-de-soleil type movements while SINGING - [NOT lipsynching]and having water poured over her and the co-performers. Sounds crazy, but it was so beautifully captivating. Also, the song she sang was such an emotion-evoking song. So... again you ask, "Fashion?" my reply is: Not necessarily fashion but it was more about personal style. She had to learn something new to be able to perform the way she did. Learning new things is part of growth. She exposed herself physically and emotionally. She left herself open. By no means am I saying to go around in extremely revealing clothing. Modest is hottest! ;o) My point is, allowing non-traditional beauty can be a good thing. Beauty in people's uniqueness. Beauty in finding God doesn't fit in a box. Yeah, I made Pink's performance about God...
God is massively creative. I am so thankful for the uniqueness He's blessed me with. Being afraid of the way God made you... well, let it go. Do your own thing and be concerned with what God thinks of you instead of what other people think. Really, I'd rather Him be proud of me for being myself than being what someone else thinks I ought to be.
"Sometimes in life you don't always feel like a winner but it doesn't mean you're not a winner." ~ Lady Gaga
"Calling me sugar
You called me sugar" ~ Pink
"For you created my inmost being; you knit me together in my mother's womb." ~Psalm 139:13
~ Get your fashion on ~
<3 Jana Faith