Does anyone ever really NEEEEEED a reason to dress like this?! I think not! ;o)
So, I wore this to church Sunday and it was inspired by THE Kandee Johnson. If you haven't read her blog, check it out. She's so positive and upbeat. She constantly makes me laugh and feel good in my middles.
Kandee Johnson's bloggeriffic blog
Kandee's Version...

Jana's version...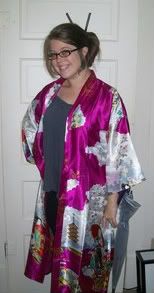 These shoes hurt my feet REAAAAAALLLLL BAD! But, I felt cute all day...sometimes that's important!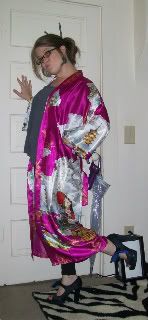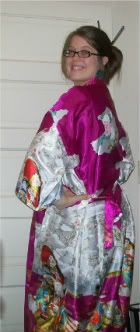 Now, we're going to go in the "way-back machine" and pretend it's the 70s.... woooble wobble weeeeee *way-back machine sounds*....
Nowwww.... we're in the 1970's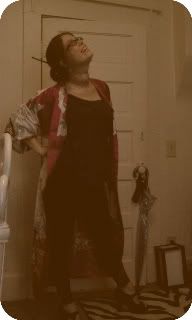 Shoes- Y-Not?, Shoe Carnival
Leggins- No Boundaries, Wal-Mart
Black Cami- Forever 21
Grey shirt- Ross
Kimono- Asian Novelty Store in Promenade Mall, Tulsa
Wear something fun today and... TELL ME who is someone who inspires your fashion? I often wake up and have a "theme for the day" inside my head... today's theme was "Asian-Kandee-Kimono-Jana-Fun". Tomorrow...who knows. I'll share more about my fashionspirations another time. I'd LOVE to hear about yours! :o)
Get your fashion on!
<3 Jana Faith <3