Don't you worry your pretty little heads - I am working on a total recap but there's so much to mentally absorb that I'm working like molasses in winter.
One of my biggest worries about BlissDom was "What in the crap am I gonna wear?!" Someone hit the nail on the head- "Wow. A Fashion blogger, you must have felt a lot of pressure when packing." Um. YEAH! Plus the fact that I'm a mental spazoid. Oh well- now you get to see what made the cut.
I didn't actually wear this at BlissDom but I did wear it in the car and it

's too good to leave it out...
Skirt- H&M via thrift

, c'mon Oklahoma, get with the program and get me a frakkin' H&M
Denim

ish leggings- Walmart
Boots- Target via Instagram Stor

e, StylishTreasures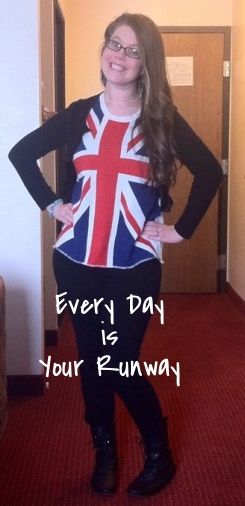 This outfit was what I wore for the Photo Walk, Newcomer Meet and Greet, and Opening Ceremony. In hindsight, I wish I would have changed after the Newcomer session but you live and learn. Next time, I'm bringing more clothes.
Union Jack shirt- Forever 21
(p.s. This was an AWESOME conversation starter. So glad I wore it.)
Cardigan- Ann Taylor the Loft
Black Pants- Gloria Vanderbilt, via Ross
Shirt- H&M Via Instagram store, tongueincheekycloset
Skirt- Forever 21
Fishnets-Walmart
Boots- Instagram
Glasses- Firmoo
Girl's Night Out, Day 2 Night- Definitely dress up! Snazzy yourself up because odds are, you won't feel under-dressed. Also, bring some kind of cute clutch. I left mine at home and had to make a mad dash to Target. Also- Sorry this picture is fuzzalicious. It's what we've got.
Dress-
Kohl
's
(
I also wanted to share with you the new exclusive 10% off code for

kohls.com

. You can use code BLOGS10 through

May 10th

. It can be used to stack savings with one other department level code as well.)
Belt- Target via Goodwill thrift
and I'm awesome because you can't even see them. Whoops. Sorry.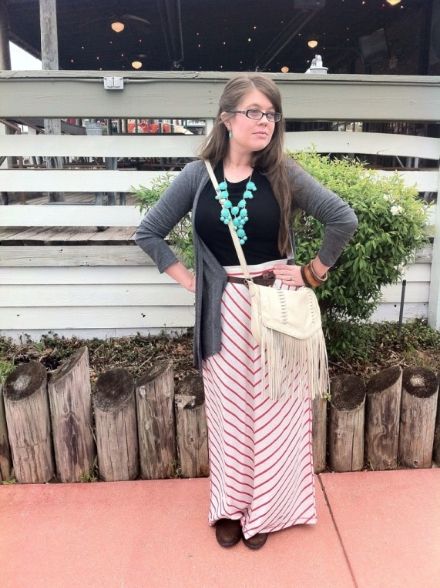 I. LOVE. this. photo! Credit to the hub. I even have a legitimate 'fashion blogger smolder' going on.
I wore this the last day, Day 3.
I loved when Danika commented, "You've got a really great boho/country look going on".
Yes! People at BlissDom got me. They understood what I was doing. My people!
Black shirt- Forever 21
Grey Cardigan- Ross
Bubble Necklace- Amazon
Earrings- Amaranth Collection
Bangles- Thrifted and Garage Sales
Belt- American Eagle
Skirt- Walmart
Boots- Instagram StylishTreasure store
This was my last BlissDom outfit. They had a Girls' Night In and told us to wear what we're comfortable in.
Initially, I was going to wear pajamas, but my husband said maybe I shouldn't and I'm SO GLAD he did because how embarrassing would it have been to take pictures with Jeremy Sisto and Ana Gasteyer in my pajamas.
Shirt- thrifted SWAT
Scarf- eBay
Raspberry skinnies- Ross
Shoes- Ross
And I loved this hair. I can dig a topknot but I had to put my own Jana-fied spin on things.
What do I wish I'd done differently?
I wish I could have brought my clutch instead of having to buy a new one.
I wish I would have changed on the first day between the Newcomer Meet and Greet and the Opening Ceremony.
I wish I'd been a little fancier for Girls' Night Out.
I kept reading "dress like you're going on an interview". That really freaked me out. My interview clothes are stuffy. Boring. Black. Get the job clothes. I don't dress like my interview clothes. My advice is:
Wear comfortable shoes. Even to Girls' Night Out. Something you can walk in during the day and something you can shake it in at night.
Pack plenty of clothes. Extra. You want options and you'll probably wear 2 outfits a day.
be slightly trendy- I heard, "This place is like Pinterest come to life!" It's true.
BE YOURSELF!
I seriously had an
incredible
time. Words simply cannot convey the awesome.
What do you think? Do you have questions? Wanna know more? Which look was your favorite?