(
This is a sponsored post.
)
Glasses became a part of my life in 5th grade.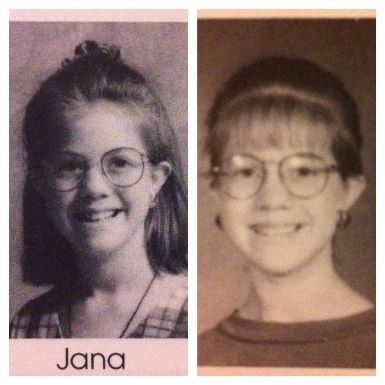 1996 1997
Fortunately, styles have changed and
glasses
no longer take up half a gal's face, ifyaknowwhati'msayin amiright?! *wink wink nudge nudge* Amen from the 90s girls!
Over the years I've had many different clothing styles and my glasses have always been the finishing touch.
There are SO MANY fashionable, trendy, and classic
eyeglasses
looks available though
GlassesUSA.com
!
Left to Right:
Muse Kelsey Tortoise
Stepper Black
Reece Jakob 6027 Black w/ Yellow
Muse College Shiny Black
I got to use their Virtual Mirror feature to try on all different styles. I used the camera on my laptop to upload a quick picture, centered the targets for where my eyes are, and voila! I was able to get a good idea of what I would look like with each style. I love this feature because as a near sighted person, I always have a hard time getting a good idea of what I might look like with different frames. With the Virtual Mirror I can still wear my glasses or contacts from the comfort of my living room while "trying on" glasses.
Go on- give it a try. It's so easy and convenient!
Bad news is: glasses can be expensive.
Good news is: you can buy
eyeglasses online
AND if you
buy glasses
through GlassesUSA they have stylish frames at discounted prices.
Every Day is Your Runway blog readers get a special STOREWIDE OFFER.
Take 15% off + get free shipping on your entire order
(orders over $50). Code: FS15
Take 10% off any order of prescription glasses. Code: Blog10
Lucky you! Try it out and from one frugal fashionista to another...