So... a fast talking salesman knocked on your door and you made the mistake of letting them inside your home. What they're saying sounds
really
good. In fact
too
good. I once had a wise man tell me, "If it sounds too good to be true, it probably is." I REALLY should have listened to him, especially last Wednesday when I could hear his voice in my head as the salesman was reeling me in hook, line, and sinker.
Short version: a door-to-door salesman came to our house, told me about an amazing deal on an amazing product. We waited for my husband to get home and within a 3 hour period of him knocking on our door, we had this amazing product installed.
After the seller and installer left... my husband and I did a quick Google search of the company and found numerous horror stories on the company. The more I read, the more freaked out I became. I slept terribly. By 5 a.m. Thursday morning, less than twelve hours after installation, I was on the phone with my daddy and we got this situation under control.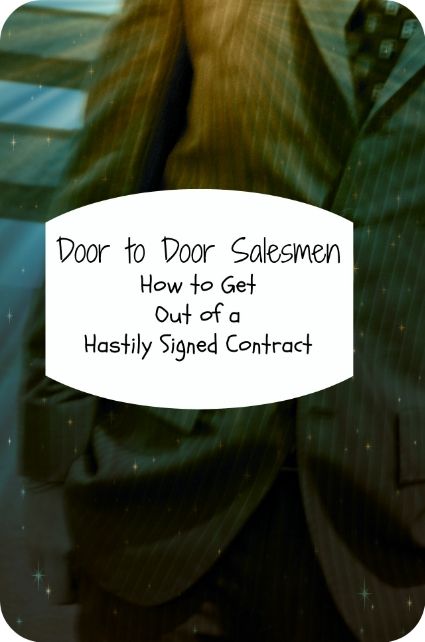 Plan of Action
Act quickly
Obviously, we immediately checked out the company online. We then read the contract to find we had three business days to write a handwritten letter of cancellation as stated. Any contract will have cancellation procedures.


Put a Stop Payment on the amount to be drafted at your bank.
The following morning I was at our bank when it opened and we did something called a stop payment on the amount the company was supposed to draft. At my bank the stop payment cost $30. It may vary but in the long run, it's better to spend the money now than end up paying the contract in full if you want out.


Write a letter of cancellation
Our contract paperwork specified a handwritten letter of cancellation. If you're uncertain what that should look like here's the template I used.


Mail the letter of cancellation via 24 hour delivery guaranteed certified mail.
We took the letter to the USPS and payed to have it shipped overnight. This was $19.95. After leaving the post office, I entered the tracking number on the USPS website and began receiving notifications via email regarding the location of my letter (very helpful for peace of mind).

Call the company to verify cancellation.
By Friday, I got an email saying my letter arrived. I called the company to verify I'd completed the cancellation procedure. I documented, documented, documented. Make sure you document each procedure you do.


After this experience I was angry and repeatedly apologizing to my husband for "getting us into this mess". I felt like a cliche of a helpless, naive woman. Fortunately, I was reassured lots of people have made similar mistakes. I am so thankful someone wiser than me helped me through. I hope this is a helpful resource for someone else. Know you're not alone.

In case you're curious... these steps insured prompt cancellation. The company called today (August 6, 2013) and tried to get me to change my mind.

Moral of the story is - if it's a door-to-door salesperson... keep the door shut!

UPDATE: 10:37 p.m. August 7, 2013 a representative from the above company knocked on our door to "uninstall". These people SCHEDULED an appointment to come tomorrow between the hours of 4 and 7. I am livid. Beyond rude to do any type of "customer service" after 9 p.m.