Day 3- Meaning of my business name - FearlessFaithVintage
I love "rescuing" vintage. I have loved vintage from the time I was a child. My elementary school yearbook has proof!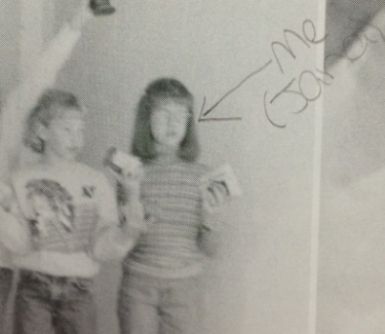 That shirt I'm wearing was delightful. The colors were incredibly UNFLATTERING on me...but neither here nor there at this point. Proof is in the pudding, vintage is and always has been my jam.
(I was
obviously
concerned that "me" wouldn't suffice, hence me also adding "Jana".)
2 Timothy 1:7 "For God did not give us a spirit of fear but of power and love and self-control" (English Standard Version) I have a tendency to overthink things and I knew God would not allow me to love vintage so much without a purpose. So I stepped out fearlessly and began selling vintage on Etsy and Instagram. I've made some diverse virtual friendships and learned running a business is harder than it looks.
And finally, Faith is two fold; it's my middle name but it also means I have faith in Jesus and know my Heavenly Father always provides what I need and more than enough.
Have you ever shopped an Instagram store? It's super easy if you have PayPal! Feel free to follow @fearlessfaithvintage on Instagram to see what its about.