So.... one day last week, I saw a great outfit on a shopper at Target. I immediately wanted to ask her if I could take her picture for a "Street Style" post on my blog...then I realized I didn't have any of my cards and I'd seem like a creeper..... so, lesson learned and I now carry cards.
May I present to you, one of my biggest fashion-inspirations, and the first volunteer for Every Day is Your Runway "Street Style"....... *drum roll please* MY MOMMA!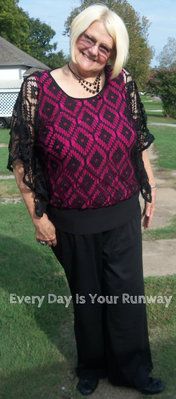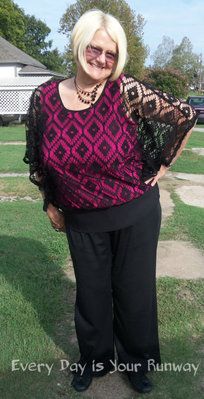 Couldn't tell you where she got her clothes because I don't know but I can guarantee my momma is a bargain hunter. Plus - you can see where I learned to pose. As they say, "The acorn doesn't fall too far from the tree." She's just too much! So stinkin' cute!
She got sassier the more photos I took.... not to tell too much...but mom is older than she looks. She's such a hot tamale! She recently got her hair cut in this style and it is fab-u-lous. Can't get over how precious my mom is. She is definitely a role model and I look up to her for far more than her awesome fashion sense.
You can be fashionable in every decade and every generation!
Get your fashion on!