No, I'm not pregnant...
After much hemming and hawing - My big announcement is....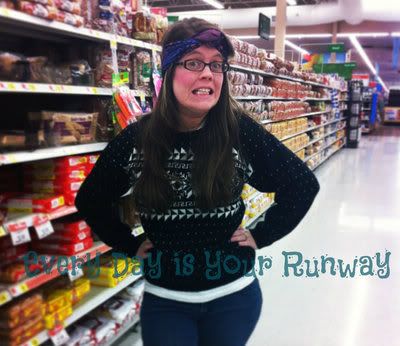 (can you feeeeeeeel the excitement emanating from the Wal-Mart bread aisle? Oh, and what do you think of this turban scarf? I think I like it- but not to wear to work, of course)

** drumroll please**
I'M GOING TO BLISSDOM!
I am so thankful and blessed to have a husband and friends who encouraged me to go. I kept saying, "I'm not valid enough" "I don't even have 100 followers!" "I don't know if I even wanna do this..."
Well ya know what?! Pish posh on all of that. I have at least that many friends who read my blog via Facebook. And people are always telling my parents about the stuff I write on here, so someone out there is reading. And I like it!
It's been a mix of excitement/nerves/fear of the unknown/ and my typical worrywart ways - but I'mma do this thang and it's going to be fun! I'm going to make more blog friends and meet some of the ones I have already
in real life
. (Hey
Heather
!) I go through cycles of excitement. Earlier, I was so happy, I got a little cry in my eyes... So, be excited with me! I'm a real, live, blogger girl. :o)
Get your fashion on!