Hooray for the red, white, & blue! I am a fan of America and thankful for the men & women who protect it.
But when it comes to "fashionable" patriotic clothing...I've always struggled with that color combo. Thanks to Pinterest, I was inspired by this photo - - -
(sweet etsy lady is charging $35 for these shorts.... I'm a little more frugal.... a.k.a "cheap")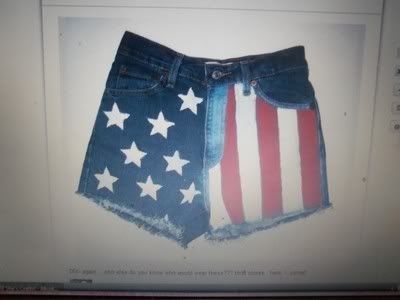 So here's my longer, more Jana-friendly version step by step. Enjoy!
1. Start with some thrifted jeans. Bet you could find some even cheaper.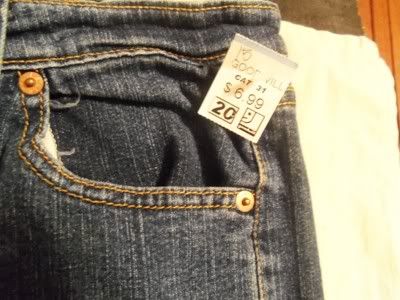 2. I used cheapo masking tape from probably Dollar Tree. I taped off a vertical section to make the red stripes.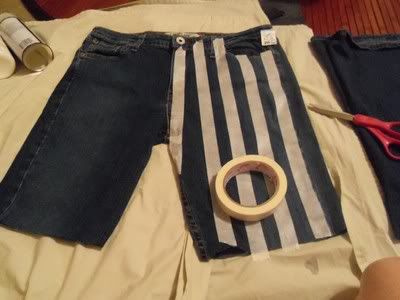 3. Paint red stripes. I ended up having to paint a few layers to make it show up properly.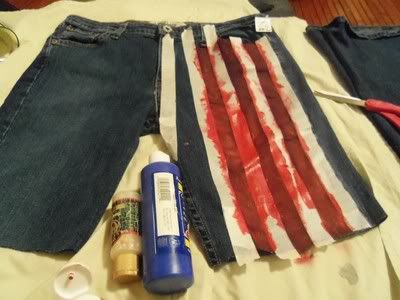 4. I free handed some gold stars with my gold paint pen. If you're uncomfortable with your star drawing ability, you can always make a template for a star to trace.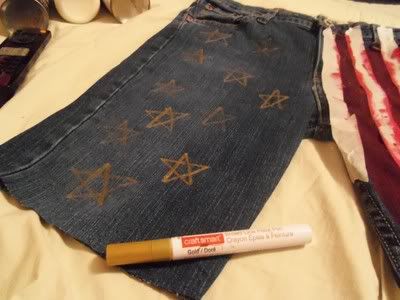 5. Paint with white inside the gold outlines and kinda cover those up as you go along... and here's some proof I'm doing this myself. :o)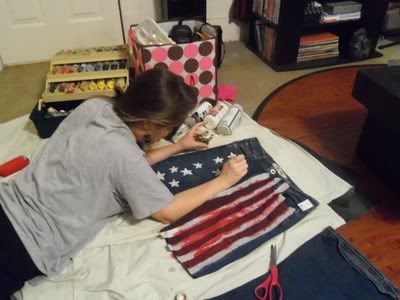 6. Let it dry...
7. Take the paint off once it's dry. I think I'm going to let these sit a day. I'm probably going to go back and do some "distressing" on them with my cheese grater. (Who knew you could use it for that?!) I might also go back and paint in between the red stripes with white.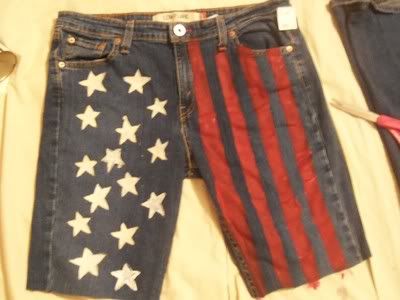 Edit: 8. I decided to go ahead and paint the white stripes. My paint is splotchy so I'm going to do a couple more layers. Heads up, the more layers you make, the more stiff your pants become.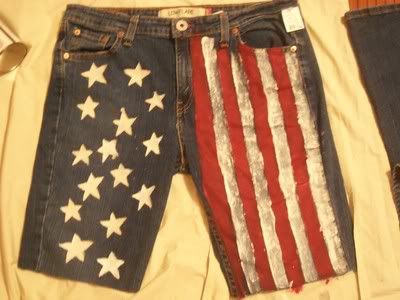 I'm pretty excited about wearing these. I plan to wear them out and about. The big "debut" will be on Memorial Day at my family reunion. I debated with myself about making these because I was a little worried I might offend someone...but please know, that's not my heart. I hope you enjoy and have a delightful holiday weekend. Thanks so much for reading. I absolutely love having friends who are readers, new readers, getting comment, and seeing that little ticker move up. Such a fun hobby this is!
Have fun and as always,
Get your fashion on
<3 Jana Faith <3
Thanks a million for letting me link up through your blog