Seriously, the Seven questions is always so much fun. I feel like I really get to know other bloggers and it's fun for me because I like to talk about myself. (Yes, I realize that's fat headed. I'm my momma's only and my daddy's baby, so sue me!)
Two years ago, I was Pinocchio in my dance studio's ballet. Dancing with a long nose can be tricky. ;o) Lesson: Don't be a liar!
I've never wanted to be a princess. Closest I've come was before I met my husband, I always sang Snow White's "Someday My Prince Will Come".
I've also been known to say, "Alice in Wonderland should be made into an honorary princess. She's my favorite Disney girl anyway."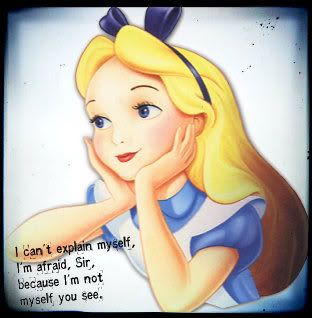 2. Do you have any odd habits? (do things in order, words that you say too often, etc)
When eating french fries, I pick and choose the good ones. If they're too floppy, too brown, too salty, etc. I won't eat them. I also mash my burgers & some sandwiches.

3. What's your "go to" outfit?
I really, really, REALLY like clothes. It's a little ridiculous. During the school year, I try to look professional. Black slacks or a black skirt tend to be easy. During the summer, I'm a jeans & t-shirt kind of gal. I'll always love a quirky t-shirt.

4. Do you have any siblings? What are their genders, ages, order of age, names, etc?
I have 3 half-siblings. I'm gonna pass on their ages. Partially because they're older than me and partially because I'm uncertain. Oldest sister, Karla, Middle sister, Rachele, Younger middle brother, Lance.

5. What's your favorite precious stone?
Diamonds are a girls best friend and pearls are my birthstone. I'm happy about both.

6. If you had a check in your hand for 1 million dollars, what would you do with it?
Pay off any debts, give $$$ to my church, find a way to make sure my husband has his own "room" to do anything with, something nice for my parents, and save the rest.

7. What do you love most about yourself- physically (eyes, smile, hair, etc. I don't know a good way to word that question...)
I have thick, long, straight hair that holds curl well if I decide to curl it. I kind of love it. :o)
Get your fashion on
<3 Jana Faith <3