I got in my Target Beauty Bag - It was F-R-E-E, so next time you see those things available. Snatch it up because the little bag alone is worth it. :o)
Goodwill shopping with my sweet friend, Baby Wolf at Goodwill. She wants to make some flag pants as featured
here
.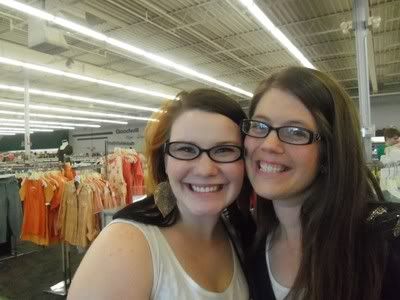 This day I was having trouble finding my usual motivation. Usually, I have a basketful to try on after a row.
Okay, maybe I'm crazy but I have seen LOTS of solid colored bottoms in the fashion world lately. I'm also CHEAP so .... check out all the colorful pants!
I tried on several pairs of colorful shorts...

I really liked the color and fit of these shorts on me. Sadly, I left without them. They were 100% cotton and knowing how I kind of stink at laundry... I try to stay away from 100% cotton. Either way, they're cute, right?
although these were cute...the color is just too shiny for summer shorts. They made me feel like a truck: a.k.a. wide load. No thanks, blue shorts. Not that I'm saying I'm large by any means. I am saying these were not my favorite. I have to like them and feel confident. These are a no-go.
These pretties... I keep. :o) $3.99
When I was trying them on, I made the button come off. Boo. Sewing skills come in handy when thrifting. At the very least, I can sew on a button. ;o)
Wanted. Badly. Wanted to rescue this pretty so someone could wear it! It features the currently stylish peplum style. Too small for me. I hung it back up but I wanted to capture it's pretty image for all the blog world to see. $5.99 style.
This is tied for my favorite purchase. $2.99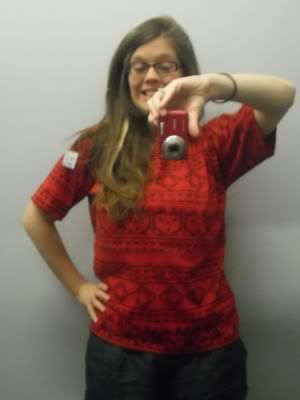 Duckface because I can.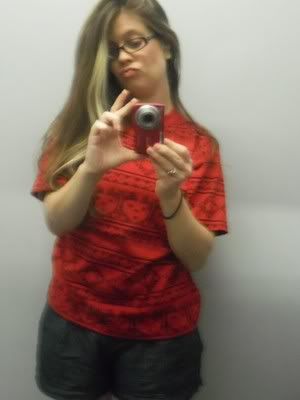 (I really like red and black together)
Besides Goodwill, we visited another store but I didn't document it as well. These are my beauties from there.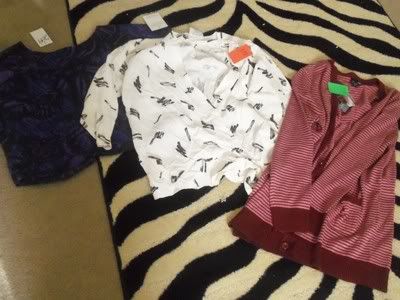 Left to Right
Purple & Black $.49
White & Black $2.99
Mauves Cardigan - Half off $3.99 - Final - 1.99



Lastly, my sweet momma and I went to Ross, Panera, and Target together. I love spending time with her because I like her. She's a beautiful momma and a sweet friend. We always have fun giggling and laughing together about life. She's so sweet to me. She blessed my life and heart with these purchases.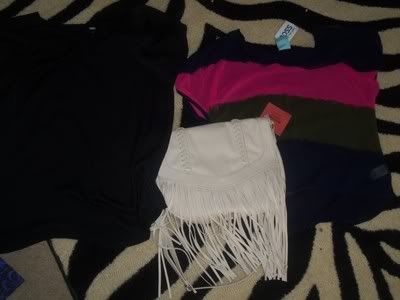 Left to Right:
Target
Target
Ross
It was a full day of shopping. Full. In case you needed to know, those sandals are really cute and sure, they're flats. DON'T WEAR THEM FOR ALL-DAY-SHOPPING. Why? You ask....Because my feet hurt like a mug Saturday night. Superawful. I even took two Tylenol to numb the pain. Poor, dramatic me. ;o)
Anyway, you can have fun fashion for inexpensive prices. :o) Share your thoughts because I sure do love to read comments. :o)
Get your fashion on
<3 Jana Faith <3