June 1st begins the month-long celebration that is my birthday! Hooray!
I saw this at
Fat Mum Slim
's blog.
1. Morning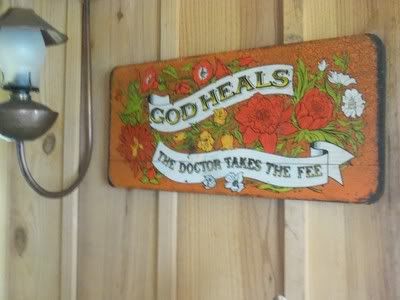 Yesterday, my husband and I went with our in-laws to a place called Prairie Song. It's an old timey town a 78 year old man has been building as a hobby for the last 29 years. It's very cool and very authentic. He takes you on a tour and tells you all about each building, how it was built, how he acquired the stuff inside, etc. This sign was in the Barber/Doctor's building. Did you know doctors and barbers were the same guy about 100 years ago? If you ever get a chance to go.... it's worth the drive and time to go. We went in the 'morning' and considering I'd been up since 4:30 a.m. yesterday.... this was taken at about 10:15 in the morning, which is a time I deem far more acceptable than 4:30 ;o)
I hope you enjoyed this little glimpse into our morning.
Have fun & as always get your fashion on!
<3 Jana Faith <3