I'm linking up to Gentri Lee's 7 Questions Wednesday (Yes, I'm fully aware I'm a whole 2 days Tardy to the Party)
Funny photo:
Middle Wolf and I get ridiculous in Target. I'm channeling my inner Ke$ha (maybe?).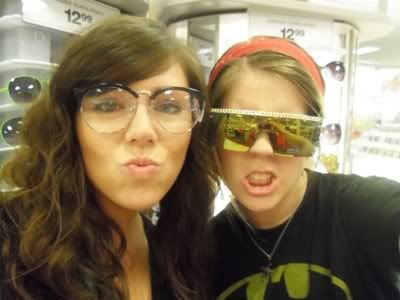 1. What do you do when you're sick? (Do you act like a baby? Tough it out? Have any weird cravings? Cry?)
I'm the biggest baby ever. I want Cheetos and ice cream and someone to "fix it". I've been told that when I'm super duper legit sick, I turn into a bear and want people to leave me alone.

2. What do you do to find motivation when you feel you've lost it?
If it's to do with teaching and I've lost motivation, checking out other teacher blogs helps. That and Pinterest. If it's to do with cleaning, usually an episode or 2 of Hoarders does the trick. If it's to do with learning something new, it gets worse before it gets better. When it comes to motivations, it depends on what I need to be motivated to do.
3. Do you wish time away or do you savor every moment?
I go between extremes. I'm great at lounging and sitting around so I am probably a "wisher awayer". I've learned that when I'm "savoring the moments" I tend to pack my schedule and wear myself thin. I'm both. True story.
4. If you could be any mythological creature, what would you be, and why?
I'd be a Siren because they're beautiful, sneaky, and musical. I like the idea of being sneaky since I'm completely NOT in real life.
5. What is your current biggest weakness and are you working on fixing it?
I'm the world's worst about picking/chewing the skin around my cuticles, particularly on my thumbs. I fully realize that it's yucky. It's an anxious habit that I developed so long ago that I'm not sure when it started. I recently purchased a creme called Control It and I'm also trying to realize when I do it. Trying to find out what triggers this habit. Again, I realize it's strange, gross, not normal, etc. I'm sharing. With the internet. And people who know me in real life. Eek.
6. How do you greet someone when meeting them for the first time?
I'm a hand-shaker and big smiler. "Nice to meet you." Extremely rare but in some cases, I'll even hug someone.
7. How do you grocery shop? (Do you write up a list? Go in with no idea what you're looking for? Have meal plans? Bring your own shopping bags?)
Unfortunately, I use the list in my head or shop on a whim. Terrible, terrible, TERRIBLE idea. I'm still technically a newlywed and I NEED to learn to cook more things. That would help with the craptastic, non-existent list situation.
I'd love for you to play along.... so fun to read your answers!
Get your fashion on
<3 Jana Faith <3