I feel bad for Thanksgiving. Dear Thanksgiving, I'm not skipping you. Just a brief, temporary bypass.
(
source
)
Many people are all jazzied up about Christmas. Already. The
day right after Halloween
night of Halloween, Wal-Mart had a shelf stocked with Christmas presents.
I'm going to sound like a broken record, but
everyone
(including me *shame shame*) has a terrible case of the "gimmes". For the love, I even have a Pinterest Board titled: "
Lil' things I want
". It's quite the bummer because instead of getting excited about Christmas, it sorta stresses people out. It's become all about what we have to buy to keep the people we love happy. That. Is. Sad.
Hubbin' and I were talking about how we had a "simple" Christmas last year and we were both REALLY joyful about spending time with one another. We created our own simple traditions and were pleased with the time we spent with one another, making memories. He then told me a story about someone he works with and how she is so stressed out because of the money she's going to have to spend to purchase a gift for one person on her list of many. If I knew I would stress my friends/family out by requesting a gift - well- that would make me feel terrible. Know what I like? Making memories.
As a child, my family Christmas caroled people door-to-door. We would make a list of people to visit, and my parents, siblings, and I would all go knocking on people's doors and sing. Happy memories. We even did it up until last year.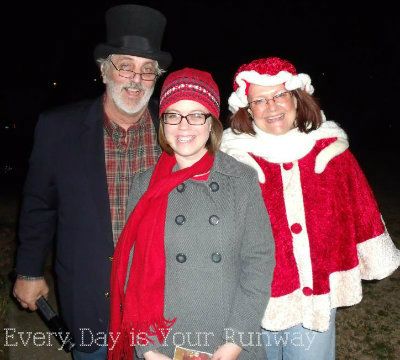 Yes, my dad is wearing a top hat and my mom is in her Mrs. Claus gear. This is where I come from and I wouldn't trade it for the world!
I love my Wolf Pack and I loved ice skating with those girls (in spite of the fact I was
CERTAIN
I was near death the entire time I was atop those stupid skates).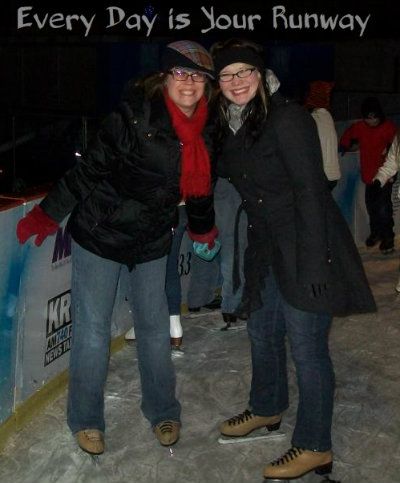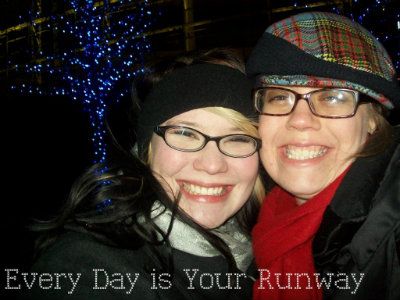 We made memories and time for each other. Quality time during the Christmas season is more valuable to me than gifts. This, coming from me, a girl whose former primary
love language
was gifts.
I guess what I'm trying to say is: Maybe this year should be less about giving things and more about giving of ourselves to each other and to Christ. Because, really, didn't He graciously give all on the cross for us? Didn't Jesus sacrificially come to Earth because of his love?
10 But the angel said to them, "Do not be afraid. I bring you good news that will cause great joy for all the people.
11 Today in the town of David a Savior has been born to you; he is the Messiah, the Lord.
12 This will be a sign to you: You will find a baby wrapped in cloths and lying in a manger." Luke 2:10-12
You won't hear any of this Politically Correct, "Happy Holidays" stuff from me. Merry, Merry Christmas!I hope everyone takes the time to step back from the presents, Santa Claus, jingle jingle, stress of the season and make time for each other, but most importantly,... make time and room for Jesus.
Get your fashion on