Every once and I while - I get a case of the snark. Snark can be snippy commentary. Generally, it's rare, but people who know me well get to see it. Today, I'm sharing with my bloggy friends. Ya know I love ya, baby.

Mustaches- Why are they trendy? They are on everything. Socks. Straws. Wine Glass decals. Mugs. Shirts. Christmas ornaments. Cupcakes. For the love! Help a sistah out? I'm a girl. The last thing I want is a mustache. Really. The facial hair my husband has is enough to hold me over.
Channing Tatum- I know I'm about to catch some flack for my distaste, but it's true. He's mediocre at best alright I guess, but it all seems so gratuitous. He's stinkin' everywhere on Pinterest. And people who know me in real life know I all but picketed the movie Magic Mike. Yucko. For those of you who disagree-
(insert gratuitous photo here)
This face that all females under 20 are making on Facebook: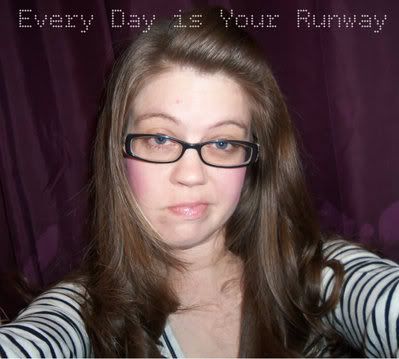 Tell me ladies, who is being unimpressive? You? Or the World? Not cute. (snark snark) Just a heads up on that - when you get to be 29, like this ol' gal... you'll get wrinkles from making that face. I'm living proof.
Oh, and speaking of Facebook - - - are you following
Every Day is Your Runway
?
p.s. Can you see my pink-eye. Hooray for quarantine. *snark snark*
When people don't like Taylor Swift. She is a nice girl. Admit it, her songs are catchy. We are never, ever getting back together? You know you've sung it. She wears short skirts I wear t-shirts? I am HER! Taylor, I love you. Even if you're more pop than country. Plus, you're constantly wearing sequins and glitter. How can people not like that?
Chalkboard Paint - It's cute. It's purposeful. The texture makes my teeth hurt. Something about that grit goes all through me and makes me feel sick. Strange as it may seem, this teacher does NOT do chalkboards.
People's Chevron obsession - it's cute. Really. And like mustaches, it's on everything. Wall Art. Dresses. Tunics. Shoes. Scrapbook paper. Even blog backgrounds. But if it's gonna stay around, let's call it what it is: Zig-Zag.
p.p.s. Just being silly. When you're quarantined due to pink eye - - you write stuff. Take it with a grain of salt.
Every Day is Your Runway ...