I'm an exceptionally talented copycat. I'm also fairly shameless. Earlier this week, I realized, I get inspired by Pinterest outifts often. And so... I present to you a piece called: I'm a Copycat.

Disclaimer: I was sharing my brilliant idea with my parents at lunch and came home to a real bummer-bomb. My brilliant idea was already thought of by some other bloggers. I'm not stealing their idea though. Just so you know - - I was all jazzied up thinking I'm a super creative person for thinking up a blog post about how I copy people's fashion choices. Dang. Nothing new under the sun... *sigh* Don't leave?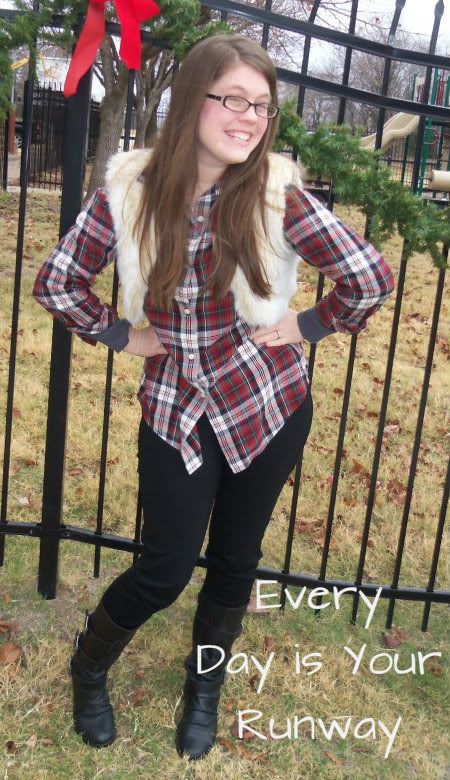 Grey Long Sleeve Shirt - Forever 21
Plaid Shirt- Thrift Store
Faux Fur Vest - Ross Dress for Less
Black Jeggings - Ross Dress for Less
Black Biker Boots- BCBG Generation -gifted
Conversation that occurred before church Sunday:
Me: Do I look like an alpaca or an abominable snow woman?
Husband: *laughing* No, you look cute.
Me: Okay, just checking. I always feel weird with this vest.
So - did I nail it? Or did I nail it? I mean, all things considered, I do a pretty good Copycat, eh?
Get your fashion on!
p.s. Did you remember to enter my
giveaway
?