Sooooo..... as you well know I like clothes. Like- kinda ridiculously.... I'm a crafty person. I'm an artistic person. It's been said I "wear my art". Sometimes I can get a little too wrapped up in the outer appearances though. Today I took a cue from a fellow bloggy lady and wore yoga pants to work (judge me if you want, but I was SUPERcomfy all day).....only my teaching partner knew. (I just ruined my own secret..... *shoot*)
I wore minimal makeup. Comfy shoes. Threw my hair in a ponytail.... and called it good.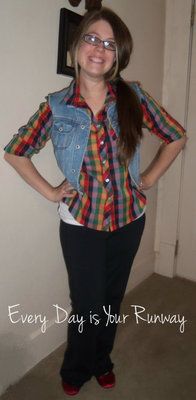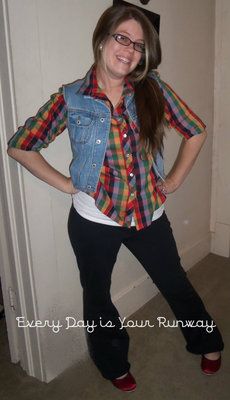 And the piece de resistance - "Husband hurry the frakk up and take this picture"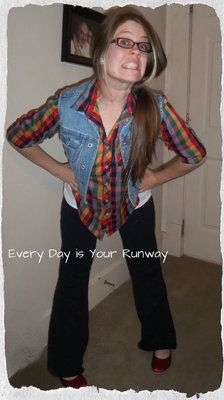 shoes- Target
pants- Ross
white tank- thrifted
plaid shirt- thrifted
vest- thrifted
earrings- Cookie Lee
"And why are you anxious about clothing? Consider the lilies of the field, how they grow: they neither toil nor spin [...]" Matthew 6:28
"But let your adorning be the hidden person of the heart with the imperishable beauty of a gentle and quiet spirit, which in God's sight is very precious."1 Peter 3:4
Okay so...teachers...and mommies might want to stay tuned...
(as these chairs are useful and practical)
On Pinterest you can find a plethora of wonders.
I saw these milk crate chairs and knew I had to make my own.
(
source
)
Material purchased at Wal-Mart's fabric department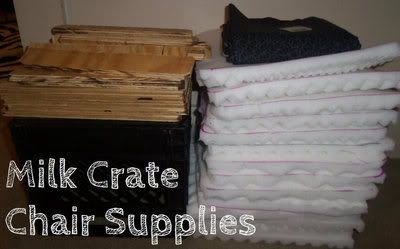 The white padding was an eggshell crate to give cushion for beds but we cut it up into sections to fit our crate chairs and saved bookoos of moolah!\
The finished product....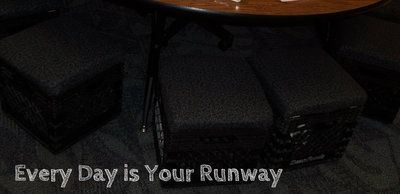 We use these chairs daily. I'm a big fan. I luckily got the crates donated by a local grocery store. If you call and ask real sweetly, then finish up with, "I'm a teacher" they'll probably pity you enough to help you out. ;o)
The plywood was graciously donated by my sweet in-laws. The labor was put in by my father-in-law, mother-in-law, and hubbalicious husband. 'Cause errrbody knows I got NO business with a staple gun! Okay- actually - it's just that I'm such a sissy. Thankful, thankful, THANKFUL! Plus, my little people like to sit in these chairs. And they're pretty comfy!
Get your fashion on!