I've learned that in first grade, you win some and you lose some. Here are a couple of things I heard today....
"I like Mrs. [me] but I don't like her classroom."
"Daniel thinks your hair is too long Mrs. [me]."
When asked what he remembered about class today,...." I remember centers." Me: What about centers? "I remember computers." Me: Okay....what about computers? "Um.... they were fun?" Yep. Centers obviously were successful for that little dude today. (Happy ending, he did remember the plot to the story we read today.)
At least I felt cute today.... right?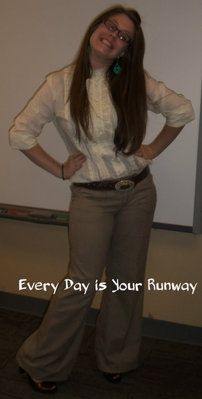 shoes: thrifted
pants: American Eagle via consignment store
belt: thrifted
shirt: Alice Temperley for Target-thrifted
earrings: Dollar Jewelry and More

Special thanks goes to my teaching partner for the photos today. Love you, Shawna.


Get your fashion on