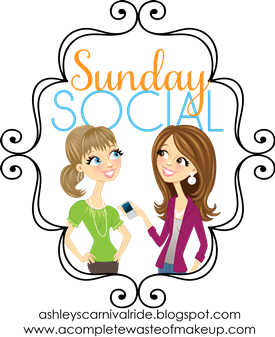 Linking up with
Neely
and Ashley for Sunday Social and all the questions are about Fall/Autumn. Well, while doing this post, I realized, I'm maturing and I like fall so much better this year than I ever have before... I hope you enjoy because I have a feeling this is going to be a photo-heavy post. Go figure.
1. What is your favorite Fall activity?

First instinct - pumpkin carving with the boyfriend who became the hubby....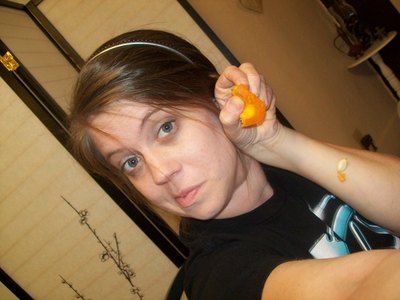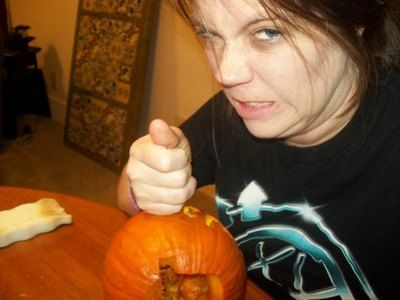 His pumpkin is always better than mine. That's why his is pictured and mine is not. He's a Batman fan. Has been for.....Oh, his WHOLE life!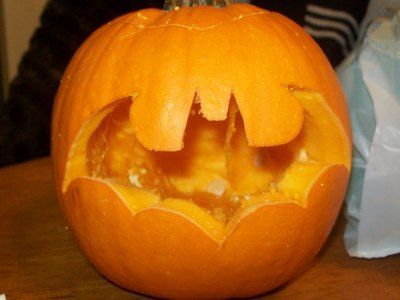 After much thinking and figuring - I've decided my favorite-favorite is actually Halloween Costumes. Choosing them. Making them. Wearing them. Becoming someone else for a night. Or even several nights in a row... Then eating the crap out of some candy. I don't think anyone should ever become "too old" to dress up. LOVE DRESSING UP!

Let's take a walk down Memory Lane:

Flapper 2009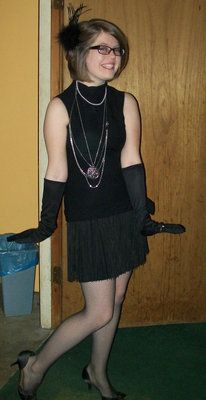 Captain Jack and his Pirate Lady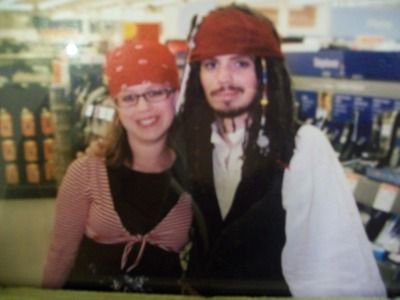 2. Do you follow a football team? if so which one and why?
This lil' family avoids sports like the plague. In Oklahoma, we're in Football Country - so I'm aware there are sports and teams and favorites. I just don't have one.
3. What is something fun about Fall in your area?
The Tulsa State Fair comes to town.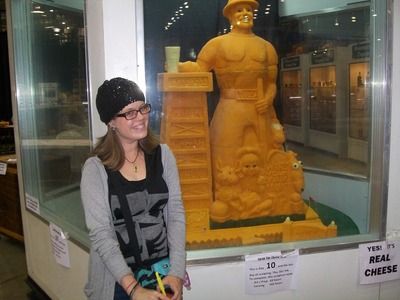 You can see awesome cheese sculptures there. Woo!

The Castle of Muskogee always has a Haunted Castle.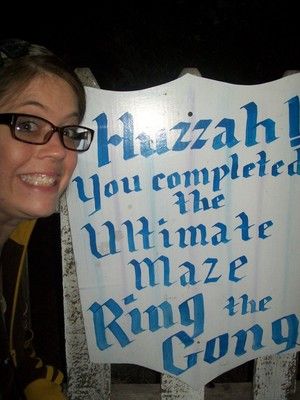 For some reason, I volunteered to work in the Spookhouse at school ummm.... 5 years ago and my life was changed. I've been to the Haunted Castle at least twice. I used to be terrified of anything spooky and wouldn't dare step foot inside a Halloween supply store. Now- you can't keep me away from the spookhouse at school. More on that later. ;o)


4. Fav Fall outfit staples?
I'm thinking cardigans. This triple digit heat actually has me wishing for some dang cardigan weather. Ooooohhhh....and hoodies. I love wearing my college hoodies in cool weather.



5. Thing you are looking forward to most about this coming Fall season?
Always.... working the spookhouse. Perhaps I'm demented, but there's something pleasant about being something completely the polar opposite of who I am. In real life, I'm usually into things like Hello Kitty, bright colors, glitter, smile- inducing sweetness, etc. But when it's Halloween - No holds barred - I'm being scary.

A couple years back, I cut up my old prom dress, splattered it with red paint - and the two-headed babies' bloody mom was born. Mercy, hope I don't loose followers...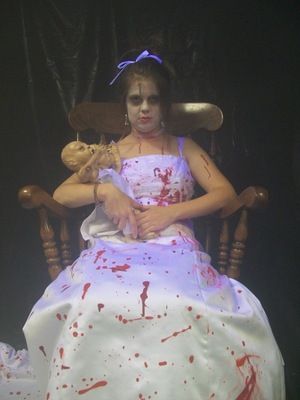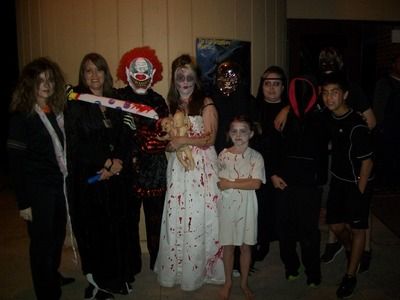 6. Favorite Fall holiday? Traditions?
Halloween for the costumes and Thanksgiving for the food. When I'm with my family, I really like that we eat. I like how cute my momma is. She makes happy table decorations. Like last year she made turkey napkin holders. I wish I had caught a picture of them but our camera was broken at the time. I like remembering how my older brother made me play, "I'll eat it if you do". Funny thing is - all the food is good but growing up,.... I didn't realize it. Sneaky, older brother tricking me into eating delicious food.
Can you tell Fall might be my "grown-up-adult" favorite season??