Even though I've technically been out of school the last 6 years, my sweet momma takes me "back to school" shopping. Fortunately, she knows how much I enjoy thrifting and when she offered to take me shopping she didn't even blink when 90% of the stuff that went in the basket was vintage. My mom has always been awesome about accepting me the way I am and encouraging me to pursue things I enjoy.

Here's the rule I grew up with regarding clothes:
"Jana Faith, so long as it's modest, you can wear what you want."

Love that. Love my momma. Love my daddy. Blessed and thankful beyond measure. Not only is my momma a wonderful parent but she's a special friend.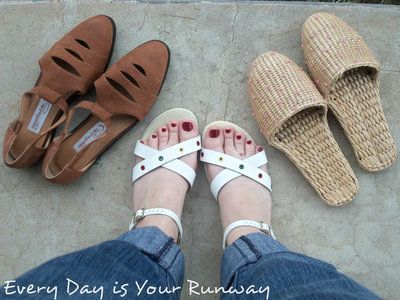 Left to right:
$6.98
$2.98
$2.98

I love the middle pair. They remind me a lot of shoes I might have had when I was younger. Funny part is - I did have some similar shoes when I was younger even thought these shoes are from the 70's. I've ALWAYS been a vintage lover. Cuh-raze-ay how much I heart vintage. Always have. Always will. Probably.

See, you can score unique bargains at a thrift store!!! I also realize a lot of people are leery of buying used shoes but it's never bothered me. Plus, these shoes all looked like they were in good shape and fairly clean.
Have a great day! And....
Get your fashion on!