Much like everyone else in the world - it's back to school time for me. And.... I'm the teacher!

So if you notice a drastic difference in the frequency of my posting for a while.... please don't leave!!! I'm coming back to my bloggy family. It's just that I need to figure out how to balance teaching and blogging. Plus, there are MAJOR changes in my teaching world this year. Okay,.... really, everyone's teaching world. New
teacher evaluation formats
(TLE - Teacher and Leader Effectiveness) and
new national standards
.
A sweet letter from one of my former students, who is now in third grade.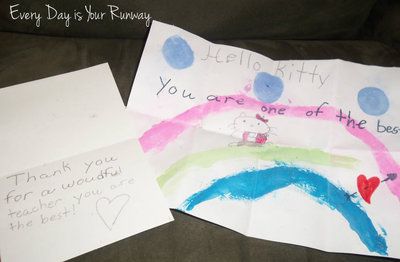 Get your fashion on